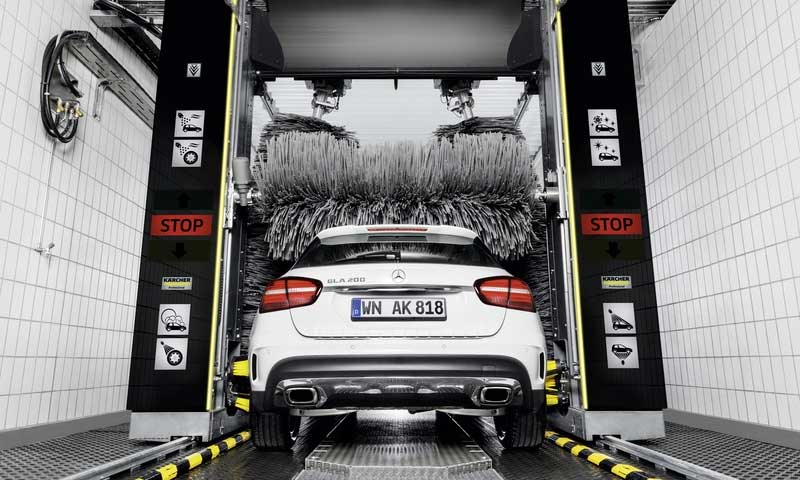 In exclusive partnership with Kärcher, TSG Wash leads the way when it comes to professional car cleaning and maintenance systems. We provide a complete range of Kärcher products, including car washes and vacuum cleaners, as well as expert maintenance and service solutions to keep your business running smoothly.
Kärcher is the leading global supplier of cleaning technology. The family-owned business employs more than 12,000 people in 65 countries and more than 100 subsidiaries. Kärcher's innovative range of products, coupled with TSG Wash's reputable installation and service capabilities, is a winning combination for car wash operators across the fuel station market as it means a lower cost of ownership and increased profitability for their business.
What's more, top brands are proven to increase profit for retail businesses. Kärcher is a recognised, highly regarded brand, that is well-known for quality cleaning products, so is a valuable car wash partner.
Kärcher Car Wash Solutions from TSG Wash
The new Kärcher CWB3 Klean! Star and CB line gantry washing systems are suitable for locations with everything from low to particularly high washing volumes, comprising basic equipment all the way up to premium systems. TSG Wash ensures that these are always in line with operator requirements and suitable for the particular filling station location in question. They are also flexibly expandable, thanks to a wide range of additional options and equipment components.
The new series of CB wash solutions from Kärcher offer middle and premium class automatic car washing, with all new innovations for the UK. Designed for fast wash programmes, they utilise  a fully customised new frame illumination concept.
Every gantry washing system provided by TSG Wash – whether it's the new CWB 3, or a CB 3, CB 5 or CB cycle – fulfils the desire for optimal cleaning results in the shortest possible time. Every CB line car wash operates on the principle of being gentle on the car – and yet uncompromising when it comes to dirt. There are five options for systems and wash heights to choose from.
Kärcher Vacuum Cleaners
The Kärcher vacuum cleaner is synonymous with the most exacting demands in terms of suction power, comfort and design. It was also developed to feature a wide range of options, allowing for individual configuration. With Kärcher's new Self-Service Vacuum Cleaner SB VC, provided by TSG Wash, you always have exactly the right device for your site.
The sophisticated technical details of the product ensure trouble-free operation and the simplest service. The Tact automatic filter cleaning system ensures that suction power is consistently maximised while hose recovery with a fibreglass pole minimises contact with the ground. The optimised, ergonomically designed suction nozzle also fits so well in the hand that it almost seems a shame to be done so quickly!
Head to our YouTube channel to see some of the Kärcher products provided by TSG Wash in action…