As more fleet operators are shifting to electric vehicles (EVs), there is a compelling need to create a charging infrastructure to satisfy their operational requirements. Whether it be a bus, taxi, last-mile delivery or transport company – they all operate with fleets, and each has its own business objectives and requirements.
In this article, we will discuss the important criteria that need to be considered whilst planning a new charging infrastructure, including an evaluation of charger types to ascertain the best fit for fleets.
The shift to electric
Sales of EVs in the commercial fleet management sector have risen exponentially in recent years, predominantly due to government incentives, reduced fuel and maintenance costs and the prospect of driving high-performance, energy-efficient, low-emission vehicles. In many cases, fleet operators drive predictable routes every day that are pre-loaded into the driver's satellite navigation system, eliminating range anxiety and making the optimisation of energy efficiency effortless.
The switch to an EV fleet is both positive and inevitable; and businesses and public sector organisations can reap significant environmental, financial, reputational and operational benefits from embracing this technology sooner rather than later. Fleet operators that lead the way in the energy transition will encourage others to follow, helping to expedite global CO2 reduction and improving air quality for all.
In addition, the adoption of EVs will help to contribute to the company's Corporate Social Responsibility (CSR) performance; an aspect that is becoming increasingly important to customers and investors alike. A strong CSR policy demonstrates environmental awareness and portrays a positive green brand image which can provide companies with an edge over their competitors. Driving electric could be especially important for public transport, taxis and last-mile delivery, as it conveys the right message to conscious consumers using these services.
Electric vehicles are almost always more costly to buy outright than their petrol or diesel counterparts, but slower depreciation and higher projected residual values help to make EVs a more lucrative investment.
Whilst EVs are often more expensive to insure, primarily due to the high cost of production, it is important to take into consideration government incentives, tax benefits, service/maintenance charges and mileage costs, as it is in these areas that EVs really come into their own.
EV service and maintenance charges are typically less costly than the equivalent traditional models, largely because they have fewer moving components and fewer parts prone to wear.
The cost of electricity is far less than the price of unleaded or diesel, meaning electric car cost per mile figures are considerably lower than internal combustion engine (ICE) vehicles and hybrids, allowing fleet operators with private charge stations to see a swift return on their investment.
According to McKinsey [1], the TCO is 15 to 25 percent less than that of ICE vehicles by 2030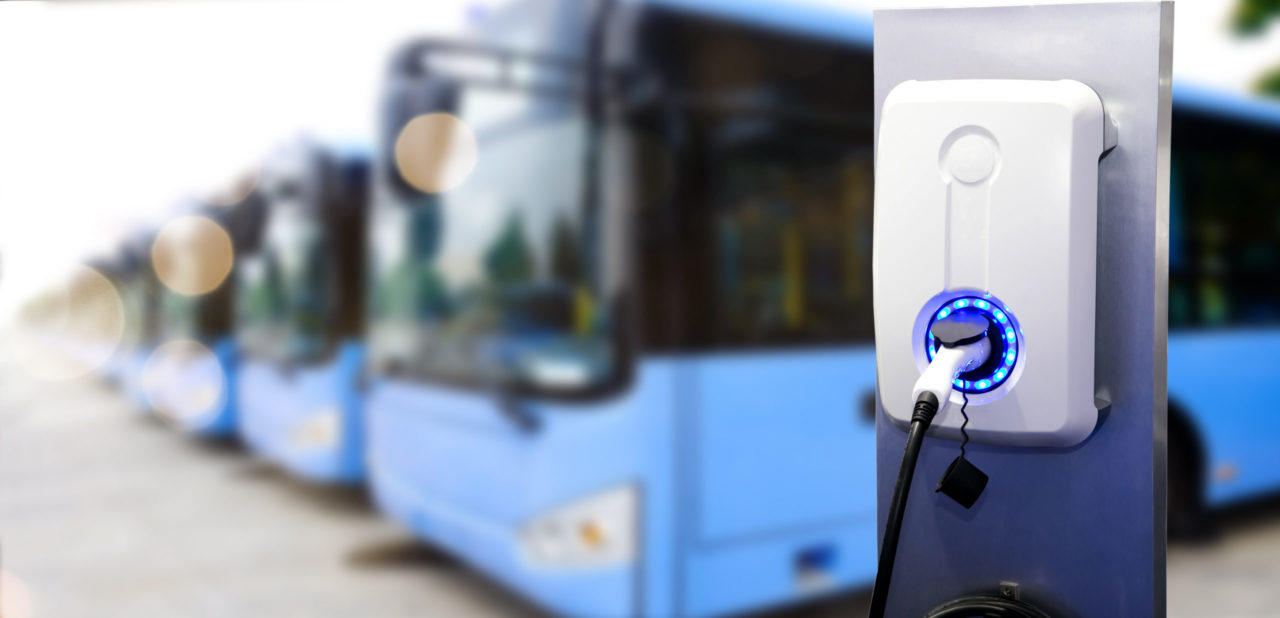 Future proof
Governments worldwide have changed their policies to encourage fleet operators to switch to EVs, with the sole objective of reducing emissions to improve air quality. Low Emission Zones (LEZs) aim to discourage the most polluting vehicles from cities or urban areas.
This radical strategy is being embraced by all main European Cities by 2030 and will cause disruption for ICE fleets not properly prepared, particularly if their destination lies within a LEZ, as the journey will undoubtedly attract an unwanted fee if their CO2 emissions do not comply with European standards.
Range anxiety
Range anxiety is a driver's fear that the vehicle has insufficient energy storage to reach a suitable charging point or the final destination. This fear has previously acted as a major deterrent for fleet operators when contemplating the switch to EVs. However, thanks to the recent innovations in battery technology that enhance the driving distance on a single charge, this fear is being progressively mitigated.
There are apps available designed to advise drivers where the nearest charge points are, how much they cost and if they are unoccupied. This advanced technology, combined with a fleet's own charging infrastructure, helps to alleviate range anxiety.
The decision to go electric is an important one, and careful thought should be given to your plan of action.
Important points for consideration when establishing a charging infrastructure:
1.      The current number of vehicles in your fleet and projection of future growth.
2.      EV charging assessments will outline options for adding EV charging stations to the existing electrical supply – be sure to factor in busy periods and any specific charge time slots required.   You may need the distribution network operator (DNO) to upgrade the supply to ensure your energy infrastructure is capable of taking on the extra energy demand required.
3.      Anticipated charging strategy:
Overnight using AC chargers; fast daytime charging using DC chargers – or preferably a combination of both, as DC chargers can act as support in the event of overnight AC charge failure.
4.      How much space do you have available to dedicate to charging stations? It is worth noting that each parking spot will be occupied for a minimum of 30 minutes to facilitate a top-up.
5.      Would automatic vehicle identification be an advantage for your business? If so, it is worth adding this feature to the specification of the charger.
6.      Managing your depot would require a monitoring system for your EV charging operations, such as ProFleet ChargeLOG. All approved EV charging points (EVCPs) are networked, providing real-time monitoring and allowing faster response times to issues. For complete control, choose a monitoring system that offers all of the required functionalities and the freedom to connect to multiple charger brands.
7.      Identify an experienced, reputable partner to provide, install and maintain the charging infrastructure. TSG can be your turn-key one-stop-shop partner for E-mobility.
Which chargers are best for fleet?
When establishing a charging strategy for your business, sourcing the right charger is a pivotal factor for operational success. There is a wide variety of chargers to choose from and dependent on your requirements, it may be more beneficial to opt for a combination of charger types and brands.
The most commonly used chargers for electric fleets are as follows:
AC with power up to 22kW. Best for a commercial electric fleet.
DC with power from 50 to 150kW. Mostly used for trucks and buses or E-Vans fast charging.
Pantograph with power up to 400kW, ideal for buses charging en route at bus stops or end of line.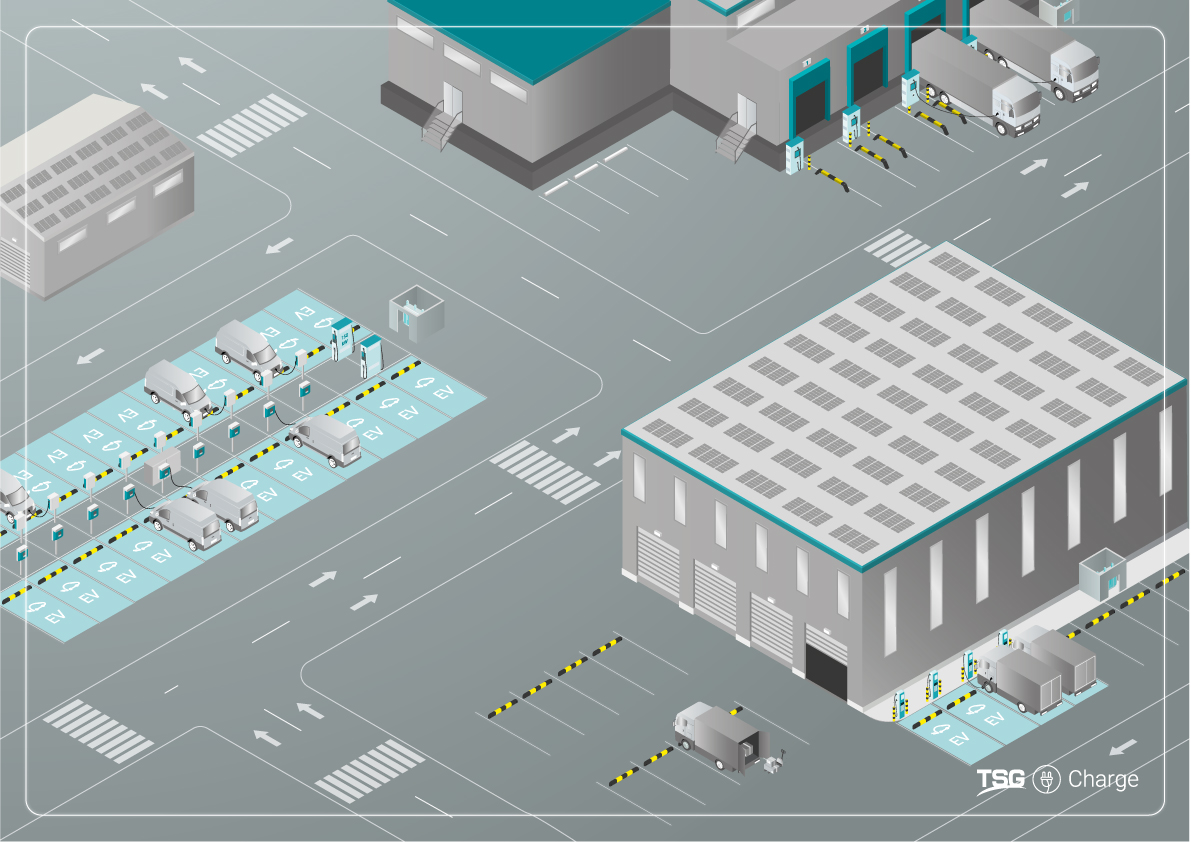 Availability of the future infrastructure is key
There is an extensive variety of manufacturers and brands as well as local/regional technical requirements to take into account. We recommend using only tier-1 suppliers with a good track record for fleet enterprises. TSG has installed and maintained more than 25,000 chargers (both DC and AC) across Europe. With a wealth of experience in providing charging infrastructure, TSG can offer advice and support to help you choose the right chargers to deliver a successful and trouble-free operation.
Why TSG is your partner for E-mobility
As a leader in technical services for responsible mobility across 30 counties in Europe and Africa, TSG is a key enabler of the energy transition, including implementing and maintaining EV charging infrastructure. TSG provides full EV turnkey solutions, from site survey, design, construction, project management, civil works, equipment installation and commissioning, backed up by a service and maintenance package.
Strong heritage. The field of technical and electrical installations of the highest quality is TSG's heritage, coupled with an intrinsic health and safety ethic.
Local presence with international expertise. Site visits can be organised via your local TSG office, whose experienced staff have a thorough understanding of local government guidelines and regulations for EV charge installations.
Extensive portfolio. TSG has a strong portfolio of proven vendors who have invested in our turnkey solutions for energy distribution and project management, including complementary solutions like solar panels, static battery storage and site-level management of energy infrastructure.
One single point of contact for the entire project. TSG Charge will not only design, install and maintain charging stations across your network but will be your dedicated partner to support you in the energy transition. TSG Charge is able to work with legacy solutions, right up to the latest technologies.
Get in touch with TSG to find the best charging solutions to electrify your fleet.