Today car manufacturers are building electric vehicles to a much greater extent than before, and in different price ranges, resulting in a lower average purchasing price for EV's. This makes EVs interesting for different type of consumers. However, when looking at the affordability of cars, and thus EV's, you have to look at more than just the price. You must take into account many factors that influence the costs of owning and driving a car, such as: country, type of energy/fuel, depreciation, tax, insurance, and maintenance.
Looking at such costs with these factors in mind is called: the Total Cost of Ownership (TCO). And so, the question remains, is the plug now actually beating the pump? What is the TCO of EVs? In the Car Cost Index of 2021 of LeasePlan, an interesting research was conducted regarding the average TCO of different type of cars.
In this article, we discuss the key findings and what this means for the charging infrastructure of the near future.
The average TCO per fuel type
In the following 4 graphs (in the slider below), you can see the different TCO's of electric cars, diesel cars, petrol cars, and Plug-in Hybrid cars. For this research, LeasePlan examined 4 different car segments: D1, D2, C1 & SUV-C1, and B1. The findings for the TCO of EVs per segment are:
Mid-size standard car segment (D1): Electric is more affordable than petrol and diesel in the majority of countries (16/22 countries).
Mid-size premium car segment (D2): EVs are the most affordable option in virtually all researched countries (17/22 countries).
Compact car segment (C1 & SUV-C1): In most of the researched countries, EVs are the more affordable choice (14/22 countries)
Sub-compact car segment (B1): Electric is slowly but surely becoming more competitive in the sub-compact segment (8/22 countries).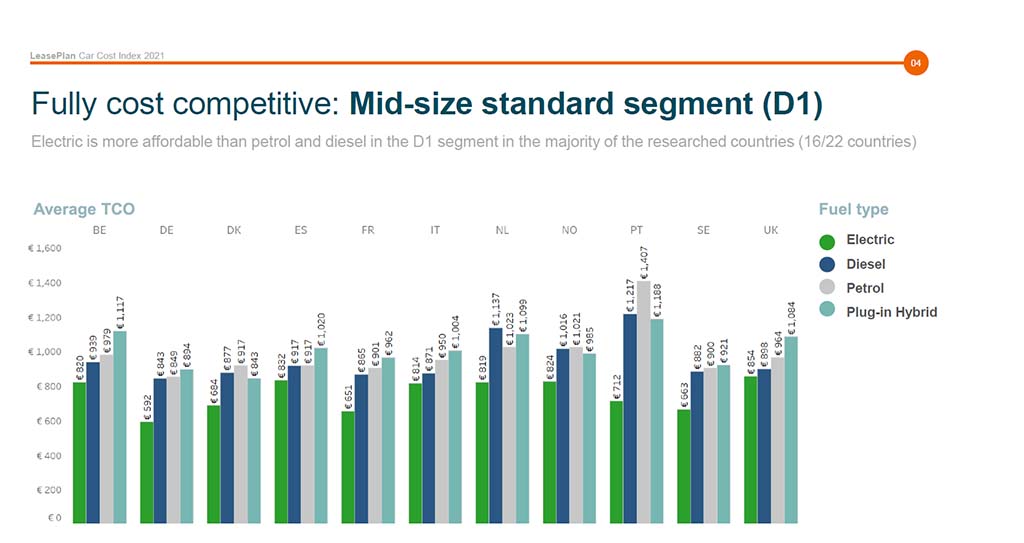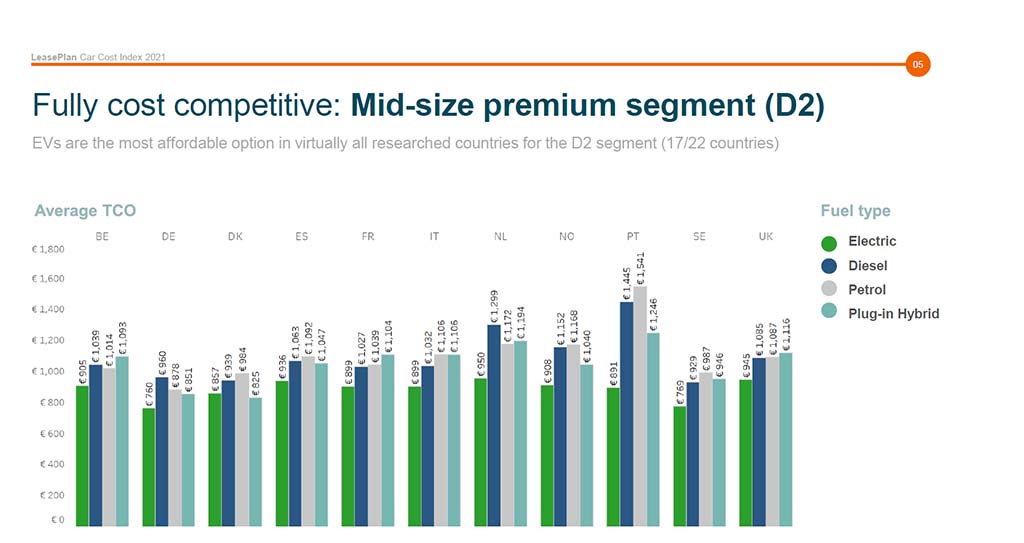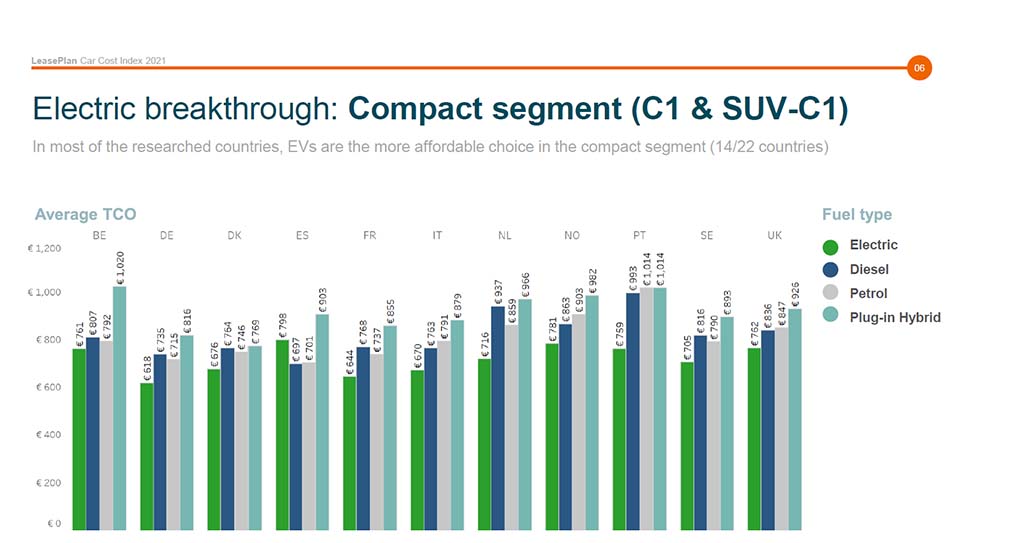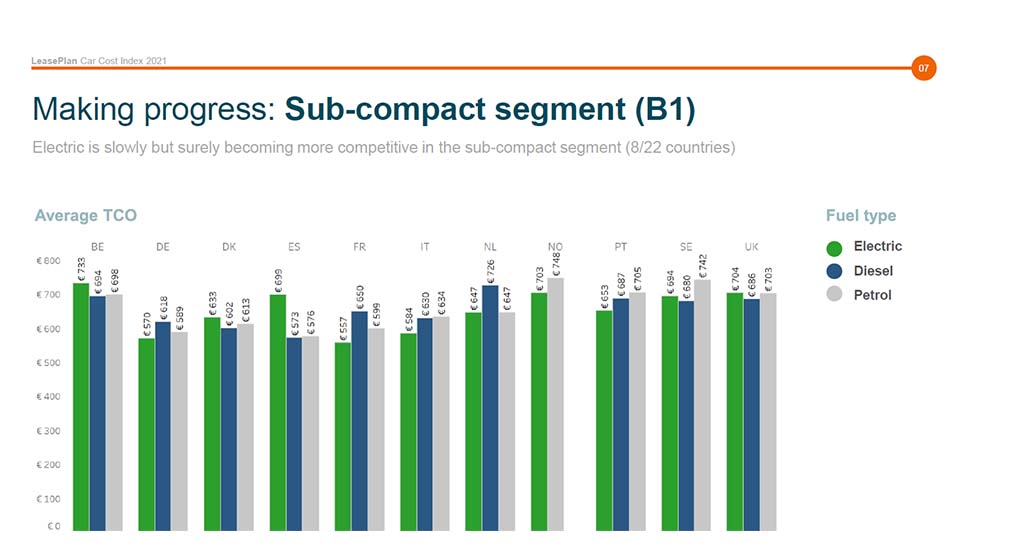 EV Cost competitiveness per country
In LeasePlan's research, an EV is defined as cost-competitive when its TCO is within a 5% margin of the TCO of the ICE vehicle. When looking at the images (in the slider below), we notice that in the segments D1 and D2 EVs are more affordable than petrol and diesel in the majority of the researched countries. And this covers (almost) completely North- & West Europe.
In the other segments, B1 and C1 & SUV-C1, electric vehicles are becoming more competitive, but not in as many countries. For these segments, EVs are cost competitive in the Netherlands, Germany, France, Italy, UK, Portugal, Denmark, and Sweden. However, EVs are not yet cost competitive in Spain, Poland, Czech Republic, Slovakia, Hungary, and Romania.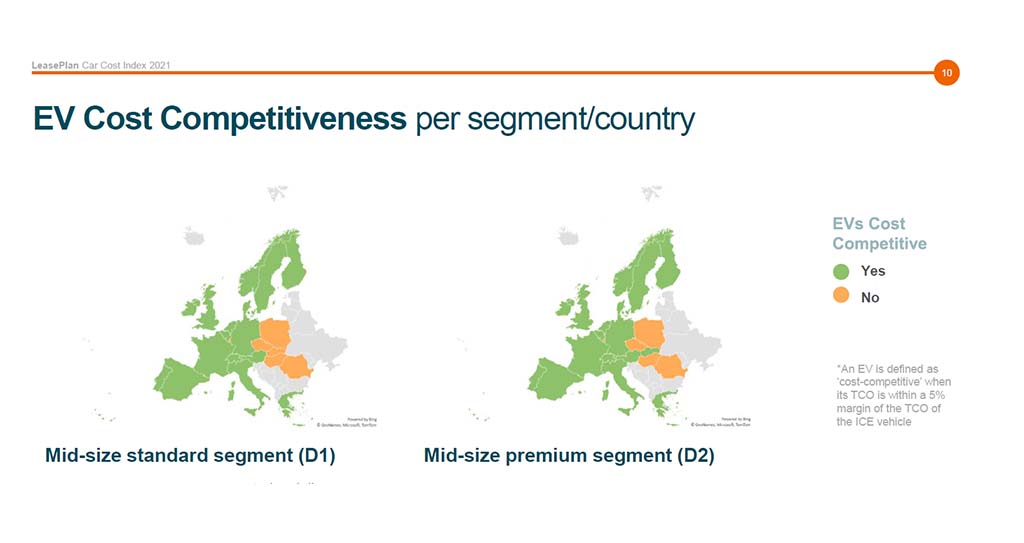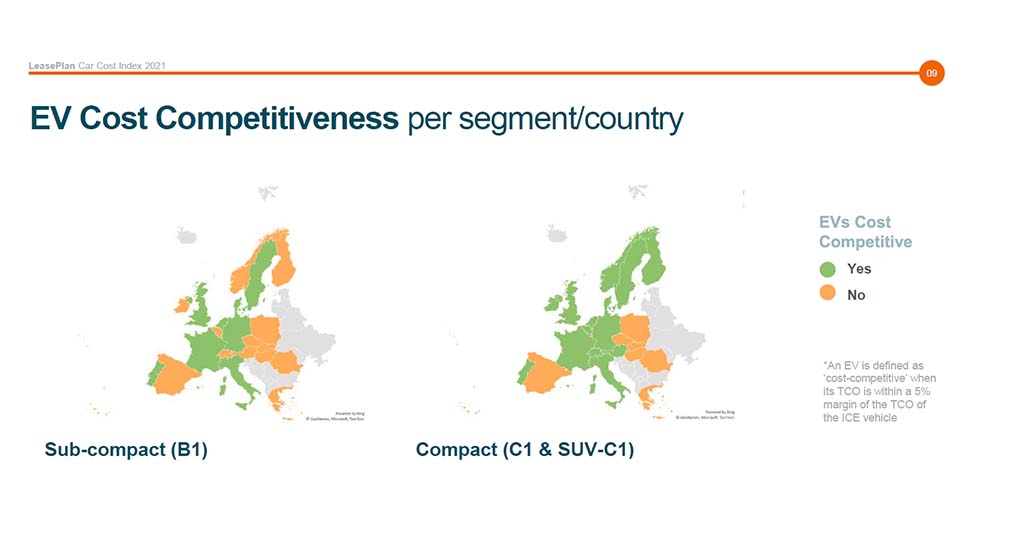 The expected rise in EV sales
Naturally, with the purchasing prices of Electric Vehicles decreasing and the TCO of EVs getting lower than other vehicles, more consumers will soon be interested in purchasing an electric vehicle. A report of the Global consulting firm Bain (2020) states that in the coming years, with the decline in prices, global EV sales will rise rapidly and reach an inflection point in 2024. EVs are expected to account for 12% of global new car sales in 2025 and battery packs will fall to $100 per kilowatt-hour.
The increase in demand for EVs strongly contributes to Europe's goal to reduce carbon emission by 55% (Fit for 55 – part of the European Green Deal). However, to keep up with the shift to driving 100% electric, Europe is in need for additionally public charging points to be accessible on all different type of locations and at all times.
The shift to electric fleet
Next to consumers, businesses are also increasingly interested in shifting to EVs. And businesses are a great example of economical actors for whom investment decisions are driven by TCO. The result of EVs becoming more cost effective is that more businesses are starting to convert their fleet to EVs.
Currently, we notice that the end of a fleet leasing period is usually the time when businesses start thinking about the alternative, but it is important to recognize that also the investment in the infrastructure is needed to recharge newly acquired EVs. This needs to be taken into account early on to prepare for a successful transition to electric driving.
Businesses are building a charging infrastructure with TSG
TSG Charge installs charging points for different types of businesses, such as: restaurants, hotels, healthcare centers, gas stations, shopping malls, car dealerships, fleet operators, and offices. We at TSG support each business in finding the right solution truly adapted to each business need, nationally and internationally. Together, with our clients and partners, are bringing high quality chargers and the right skilled technicians to build the proper charging infrastructure Europe requires, enabling a more sustainable world.
TSG is your sustainability partner for installing EV chargers
With TSG charge we deliver, install, and maintain all type of EV chargers across Europe and Africa, suitable for different businesses and customer needs.
Check out our charging solutions
Key findings of the Car Cost Index 2021
The average monthly cost of driving a car varies hugely per country in Europe.
Relative to the GDP, the TCO is highest for drivers in Switzerland and Portugal, and lowest for those in Denmark and Germany.
Poland is the cheapest place to drive a petrol car, while Greece is the cheapest place to drive a diesel car.
Electric cars in the premium mid-size (D2) segment are cost-competitive with petrol and diesel models in 17 European countries, while electric cars in the compact (C1) segment are cost-competitive in 14 countries.
The Volkswagen ID.3 has a lower TCO compared to the Volkswagen Golf - a popular standard fleet car - in 12 European countries.