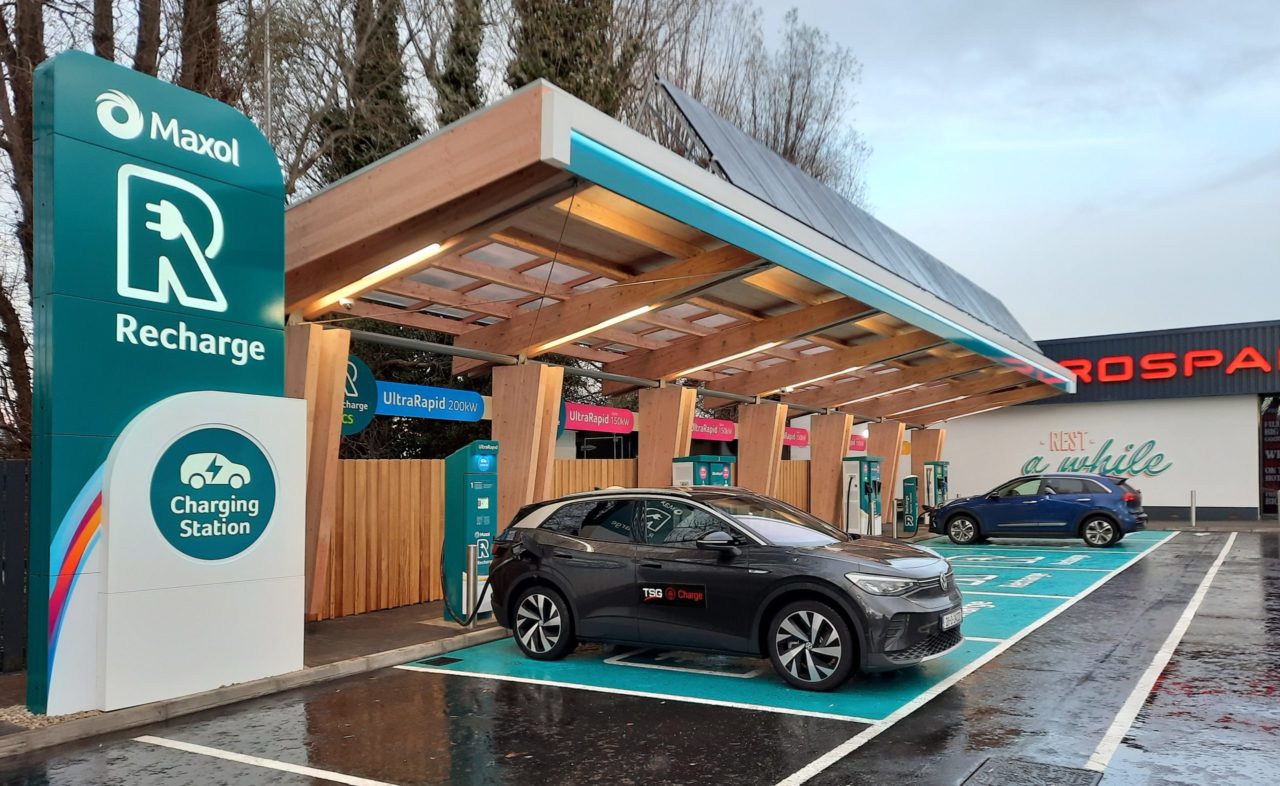 Here at TSG Ireland, we are thrilled to announce that our latest project with Maxol has just launched! In a first for Northern Ireland, Maxol Kinnegar Service Station in Holywood, Co. Down has delivered the first dedicated Electric Vehicle (EV) hub complete with four high-speed chargers, installed by TSG Ireland, servicing up to six vehicles at any one time.
This project marks the start of the development of the right infrastructure to fully support the move to electric and is a totally new concept in EV charging offering EV drivers a whole new charging solution. This project required the construction of an EV Charging hub that is integrated with a Point-of-Sale system which TSG Ireland planned, managed and executed from end to end.
Aim of the project
The aim of TSG Ireland's partnership with Maxol Kinnegar is to provide the EV Charging infrastructure to construct the first of its kind, EV Charging hub that is fully integrated with the Point-of-Sale system. This provides additional means of payment, including credit card, debit card, contactless, mobile phone payment, AMEX, Fuel Card and Loyalty among other forms of electronic payment.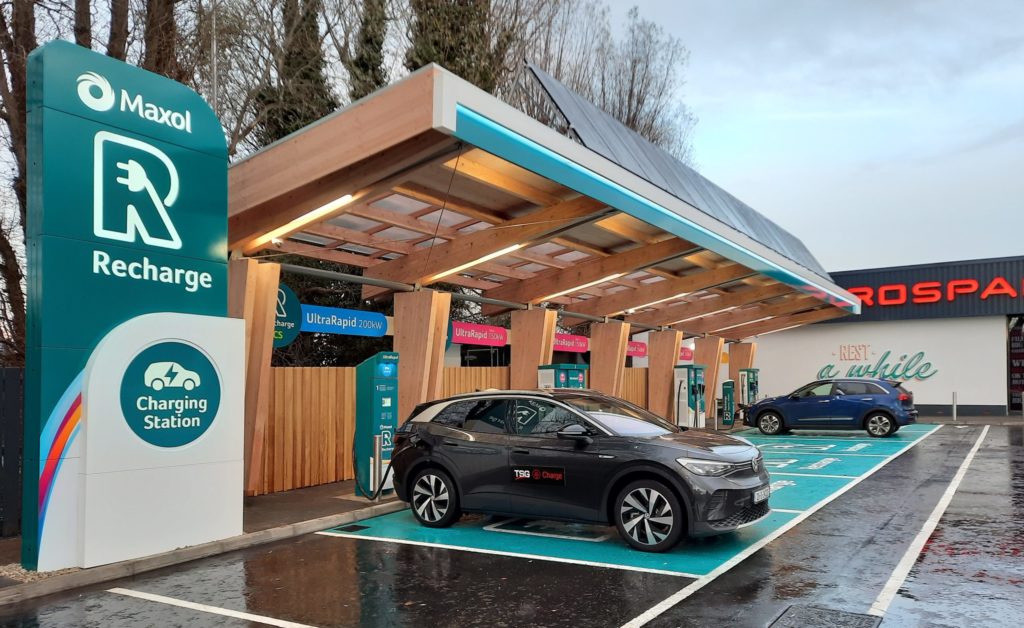 What services were provided by TSG Charge
Here at TSG Charge we offer end-to-end EV car charger installation service. We aim to provide the very best installation service with a professional approach to all projects regardless of size or value. Whether the requirement is for a single installation, or a complex larger scale system with multiple charging points, we offer a complete solution for every need. We work closely with the site owner to ensure that all of our equipment installation projects are delivered to an extremely high standard, with thorough planning and attention to detail.
As part of our partnership with Maxol we provided:
Design of EV Charging infrastructure
Provision of Point-of-Sale system
Commissioning
Handover to live
Types of chargers installed and number of chargers
The installation was comprised of:
1No. 200KW (CCS Only)
2No. 150KW (Dual CCS @75kW when shared)
1No. 50KW (CCS and CHAdeMO)
These 4No. High-Power EV Chargers provide 6No. bays of simultaneous DC Charging. All of the EV Charging equipment is provided from the Circontrol range of DC Chargers.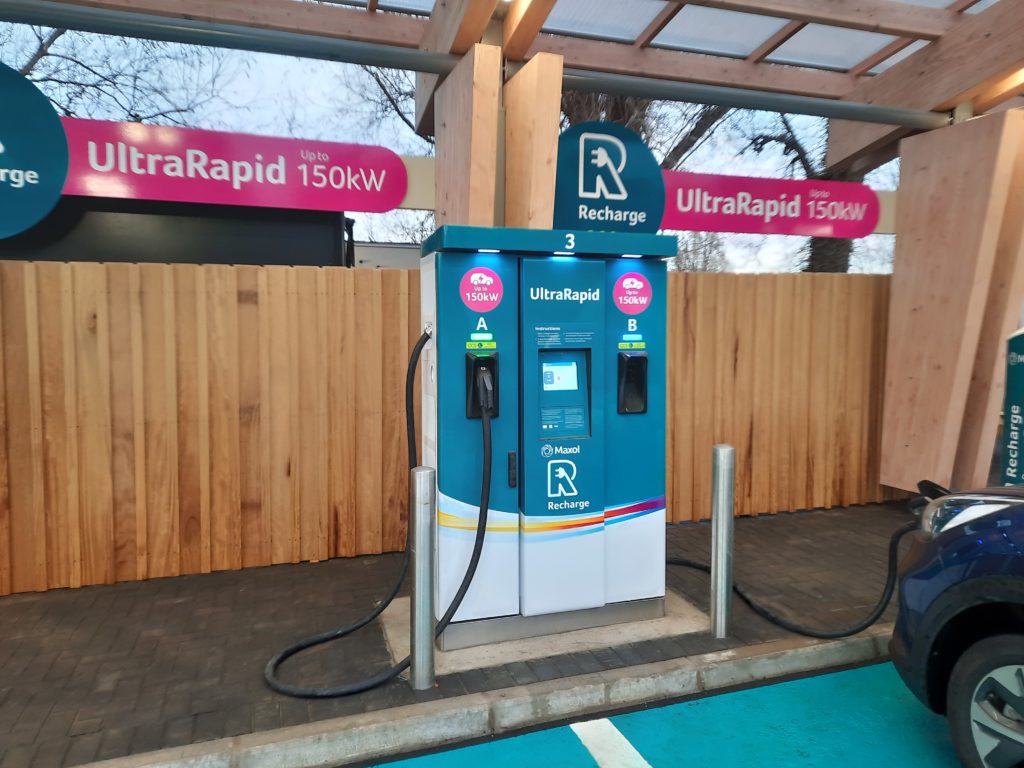 Additional information
There was no Charge Point Operator (CPO) involved in this project, just the Point-of-Sale system driving the chargers. Although TSG Charge did not provide the Civil or Electrical infrastructure for this site, we worked very closely with Maxol's contractors to provide a seamless EV Charger installation and commissioning service for Maxol.
TSG provided our Slimtouch outdoor payment terminal (OPT) to control the EV Chargers on site. The Slimtouch and associated Prizma software have been developed to control EV chargers using the OCPP protocol.
Charging sessions are started and stopped by the EV driver using their card at the OPT (or in the store at some locations). This offers Maxol full control and detailed reporting on its EV charging infrastructure, unlike CPO propositions.
Different tariffs or price sets can be programmed, including:
A fixed starting fee
An energy price in kWh
A parking time fee
A non-W&M (Weights and Measures) discount
Different VAT rates for parking and charging
Payment types accepted by the OPT include:
Credit Card
Debit Card
Mobile Phone
Prepaid cards
Fuel Cards
EMV
NFC – Contactless bank cards
Full control of the following features and functions for EV Charging:
Revenue generation and retention
Control of Pricing
Control of Billing e.g. Fuel Cards
Monitoring and Management
Servicing and Maintenance
Features and functions of the EV Charger
Reporting and MIS
CRM
Integration with your existing POS systems
Maxol Fuel Card
Future App development and integration with EV
Future billing methods (ApplePay etc.)
Future equipment upgrades (350kW Ultra-Fast Chargers)
The project was delivered on time for the scheduled opening date of 6th December 2022. This was achieved despite serious constraints on the site. The launch date was publicised in local and social media with executives from the involved companies attending site alongside dignitaries from the local area.
Conclusion
This project is a hugely exciting step towards the move to fully electric. This was a significant development for Maxol on their site in Kinnegar, Holywood in Belfast, and marked an important step in their journey towards being a more sustainable business. TSG Charge were thrilled to have been a part of this project and we look forward to being part of similar solutions rolled out across the rest of the country. If you would like to learn more about electric cars, charger installations, and more, contact us on our website or email us at david.swaine@tokheimservices.com.