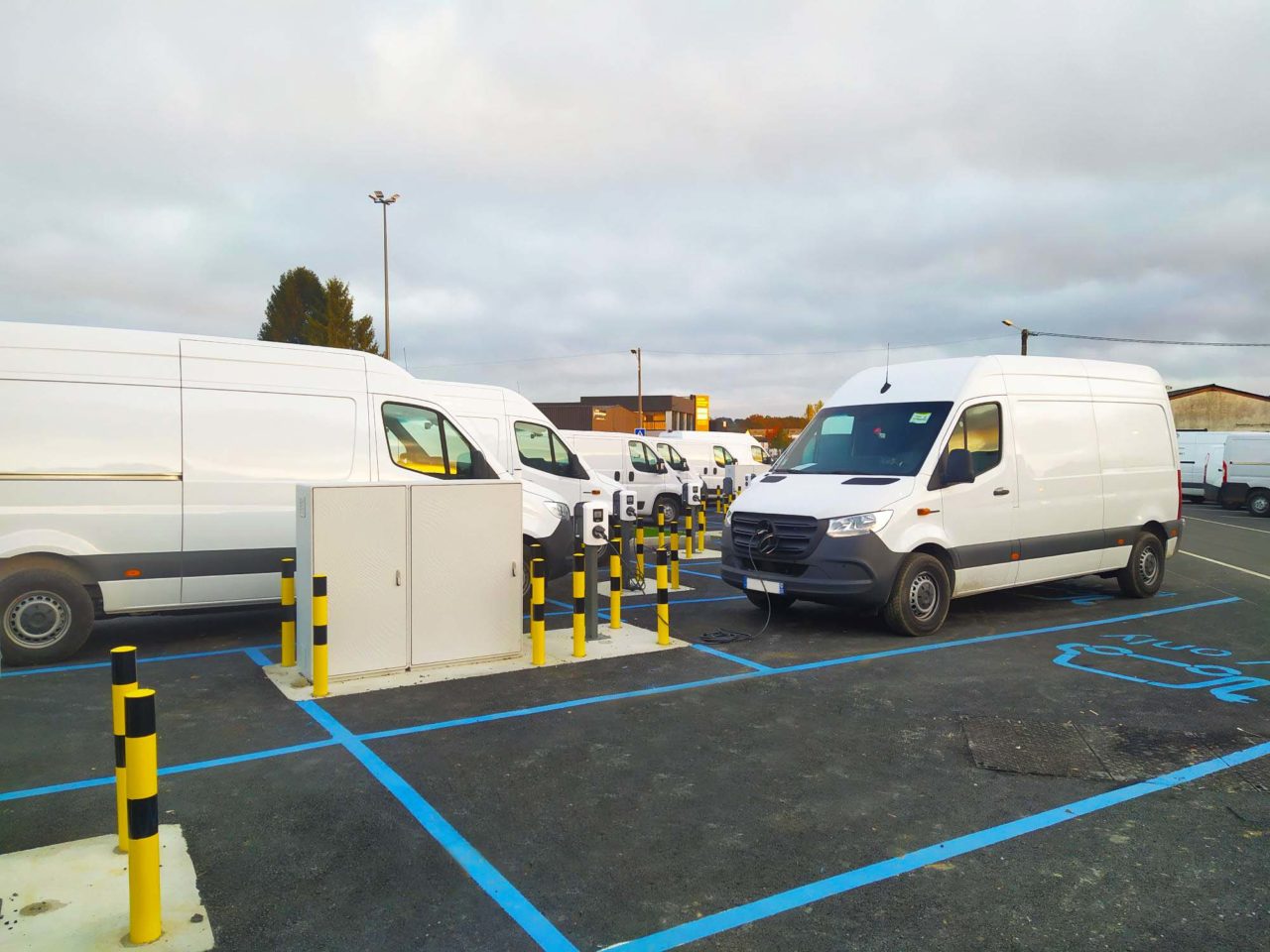 Electric vans will become ever more important in 2022 as battery technology is evolving at high speed, offering longer and longer ranges. This has led to a point where vans of all types and sizes have become viable for electrification. Especially with so many different models out there, it is important to make sure you pick the right one for your company needs!
At TSG Charge, we are Ireland's leading electric vehicle charging company. We have a workforce of electricians, installation experts and project managers across Ireland. In this blog, our EV experts have combined their knowledge to provide you with an updated electric van price comparison guide of the 8 top vans for 2022.
Citroen e-Relay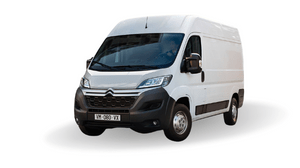 Price: From under €59,000
Range: 223km
Payload: Up to 1,150kg
Similar to the Peugeot E-Boxer, the Citroen e-Relay is a great option when you are looking for payload and range.
It has a 122hp electric motor with 210Nm of torque and offers a maximum panel van payload of 1,150kg and a maximum driving range of 223km. Prices start at under €59,000.
MAN eTGE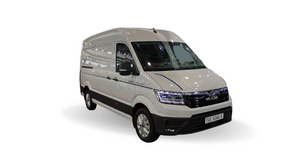 Price: €69,500
Range: max 114km
Payload: up to 4250kg
The MAN eTGE is built by VW on MAN's behalf. However, this van makes only sense for your business if you operate mainly in city centres, due to its short driving range of only 114km maximum.
The eTGE comes in only one size and shape to start with and its internal capacity is exactly the same as the diesel engine version. It does come with a choice of two different payloads though. You can choose between a 3.5-tonne or 4.25-tonne payload without changing the physical appearance of the van.
Maxus e Delivery 3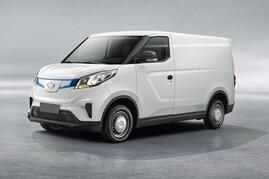 Price: around €66,000 entry-level
Range: max 243km
Payload: 1,020kg
The E delivery 3 is Maxus's next-generation electric van. This new model offers two different battery sizes – 35kWh and 52.5kWh – which leads to a maximum range of 243km. Payloads range from 865kg to 945kg.
You have a choice of three different body configurations, including a 1) short wheelbase panel van, 2) a long wheelbase panel van or 3) a long wheelbase platform chassis. Depending on the body type you choose, the maximum payload capacity can vary.
All three types are powered by the same motor, which has a maximum output of 121bhp and 255Nm of torque.
Mercedes Benz eSprinter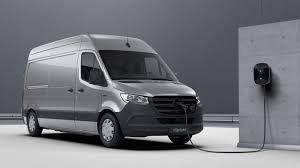 Price: €62,237
Range: 154km
Payload: 774-900kg
The current Mercedes eSprinter on the market is surprisingly one of the less expensive large electric vans out there and starts at a minimum of only around €62,237.
The issue is, however, that it has a maximum driving range of only 154km per charge and a relatively low payload capacity at 774kg. Recharging speeds of 7.2kW, 20kW and 80kW are available, with the fastest taking the battery to 80% in 30 minutes.
The good news is: Mercedes has already announced plans for their next-generation model, which will come with a choice of three different battery sizes and various body types. Stay tuned!
Volkswagen e-Crafter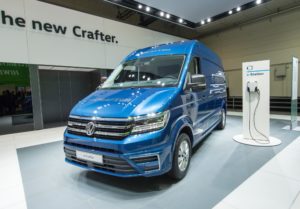 Price: €69,500
Range: 149-172 km
Payload: 975kg
Similar in size and range as its rival, the Mercedes eSprinter, this large VW starts at a slightly higher price at €69,500. Its maximum driving range lies between 149 and 172 km.
There is a lot to like about Volkswagen's eye-catching electric van. 149km of EV driving range is plenty for short to medium trips, while a DC rapid charge point will take the e-Crafter back up from flat to 80% in just 45 minutes, meaning it can easily be tied in with a quick lunch break.
Volkswagen ABT e-Transporter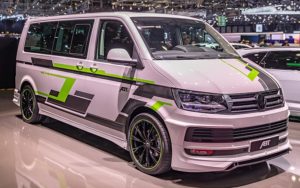 Price: from €50,316
Range: 131 km
Payload: 996kg,
If you are looking for a slightly less big electric van there are a couple of medium electric vans on the market that you should know about, like the ABT e-Transporter by VW. Suited to a range of business types including couriers, delivery drivers and local businesses, it is ideal for meeting the demands of the working day.
The e-Transporter has been developed by independent EV specialist Abt, rather than being an in-house project and reportedly offers a great driving experience. Although the driving range is, at just 131 km, low compared to other electric vans on the market, it offers multiple charging options, with high-speed CCS charging available that can take the battery from zero to 80 per cent in 45 minutes.
Mercedes eVito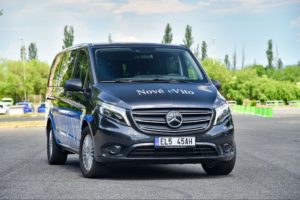 Price: from €48,993
Range: 148km
Payload: 890-905kg
The Mercedes eVito offers a great option for a mid-sized van if you are looking for an electric van that can move people around for short trips. It comes in a choice of two different body lengths and has a payload of around 900kg. The battery can be recharged in six hours at 7.2kW with no option for fast charging.
The eVito electric van is recommended for city traffic or for companies who run scheduled, recurring routes. This model is perfect for demanding tasks with its volume of cargo, with the electric drive not restricting the cargo space volume in any way.
Although its current driving range of 148km leaves room for improvement, its new facelifted version gets a bigger battery that can travel up to 261 miles between charges. Stay tuned!
Vauxhall Vivaro E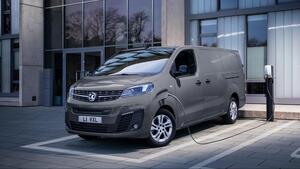 Price: from €31,687
Driving range: up tp 329 km
Payload: 1,002-1,226kg
The Vauxhall Vivaro E joins a growing range of fully electric vans but has a number of features that set it apart from the others.
This mid-sized van is basically the same van as the French Citroen e-Dispatch, Renault e-Expert, and the Toyota Proace Electric, all built by Stellantis. While they are on the larger side of mid-sized vans, they still offer a longer range than most of their competitors. With up to 329 km per charge, they are true revolutionaries in the electric van sphere, making it the ideal electric van for more heavy-duty work and travel.
The Stellantis vans offer multiple charging options, including fast charging of up to 100kW, meaning you'll be able to charge the battery to 80% in half an hour. That's not where the good news end: with a payload of 1,200kg and a very reasonable price, they are potentially your best deal!
EV Grants For Your Business:
Not only does an EV fleet lead to zero road tax and lower running and serving costs but you can also avail of grants from The Sustainable Energy Authority of Ireland (SEAI). These EV grants are available towards the purchase of N1 category EV for businesses with a maximum grant of €3,800 awarded. This grant applies to new vehicles only with a list price of greater than €14,000 and provides a great incentive to take the plunge and electrify your fleet!
Electrify Your Fleet with TSG Charge
If you're interested in making the move to an electric fleet and want to ensure you get the best charging solution possible, then contact us at TSG Charge or ring us on 01 461 9800. Here at TSG Charge, we can provide you with the services you require, install these services and maintain the infrastructure for your EV fleet charging.