As part of the Climate Pledge, many large companies have committed themselves to becoming CO2-neutral by 2040.
UK-based telecommunications giant BT, for instance, plans to electrify its whole fleet by 2030. With these goals in mind, it doesn't come as a surprise that fleet electrification for large companies involves the installation of thousands of charging stations across the world.
At TSG Charge Ireland, we are proud to have partnered with one of the world's leading e-commerce giants to turn their ambitious carbon neutrality goal into reality.
In this case study, we look at the benefits of switching your business fleet to electric and present our fleet electrification project in detail.
Benefits of EV fleet installation for your business
#1: Cheaper to run
According to the SEAI, studies show that an electric vehicle running cost can be as little as 20% of the cost of a similar size diesel engine. Although the upfront costs of installing electric vehicles for your business fleet are high, over their lifetime EVs are far cheaper to run. That is mainly due to 1) lower fuel costs and 2) less maintenance costs.
As the table below shows, the cost per 100km for a typical diesel engine is at €7.80, much higher than for an electric car (€1.92). To compare different car models, head to the Compare and Calculation Tool offered by the SEAI.
| Engine type | Advertised energy consumption | Cost of unit of Energy | Coast per 100km |
| --- | --- | --- | --- |
| Diesel | 6.0L/100km | €1.30/L | €7.80 |
| Electric | 16Wh/100km | €0.12/kWh* | €1.92 |
Source: SEAI
The savings on fuel costs are to be expected. But did you know that you can also save maintenance costs when switching your fleet to electric? The reasoning for that is simple: battery-driven cars have fewer moving parts than internal combustion engines, meaning there are fewer filters, plugs, or fuels to replace.
Lastly, compared to fossil fuel-powered vehicles, the tax liability for electric vehicles is minimal. As governmental policy to restrict the use of internal combustion engine vehicles is growing across Europe, converting your fleet to electric will future-proof your business. As the carbon tax is going to increase year by year, it will become increasingly more expensive to drive carbon-emitting vehicles. The charge that currently applies to petrol and diesel is €41 per tonne of CO2 with the Irish government having set a target of increasing the rate to €100 per tonne by 2030.
#2: Benefits of EV grants
Related to the above point of cost savings, the Irish government has introduced initiatives to encourage the move to clean transport to make it more affordable for businesses to switch their fleet to electric. Issued by the SEAI, business grants are available for the purchase of N1 category electric vehicles (typically vans carrying small goods) with maximum grants ranging between €2,500 and €3,800 when purchased commercially.
#3: Gives your brand an image boost
A positive brand image goes a long way and if one thing has become clear over recent years, it's that consumers are increasingly passionate about the environment. A recent study by Deloitte shows a clear opportunity for companies that take action on environmental issues. As a matter of fact, 23% of consumers say they would switch to buying products from an organisation that shares their values on environmental issues. Demonstrating the environmental benefits that come with an electric fleet to the public can mean the difference between winning contracts and missing out.
#4: Reduces emissions
In Ireland, transport accounts for 39% of greenhouse gas emissions. Electric vehicles have the power to reduce emissions from the transport industry close to zero. Although currently only around a third of the electricity used to charge EVs is renewable, grid electricity in Ireland is expected to be 70% renewable by 2030. Therefore, unlike diesel or petrol-powered vehicles, the fuel supplying an electric vehicle is getting cleaner year on year.
Belfast Fleet Charging Installation
Since 2020 at TSG Charge we have successfully installed more than 2000 electric vehicle charging stations per year for our client across 7 countries, including local grid upgrades. Two of these projects were carried out in Belfast and Dublin.
The aim of the Belfast project was to install a multi-storey van deck for the client's new fleet of Mercedes E-Sprinter vans, which are being used for last-mile logistics in Northern Ireland.
For this project, we installed a total of 60 EO Genius chargers, including data cabling for back-office connectivity with EO's monitoring service. We furthermore set up distribution boards at the top of each row of parking bays to feed individual chargers and provided all the cabling and containment for the charger installation.
One of the stipulations of this project was that we were unable to drill into the infrastructure to mount the EV Chargers. TSG Ireland had to design a clamp-based containment solution to allow the chargers and tray to be clamped to the pillars instead of mounted directly to them.
Dublin Fleet Charging Installation
The aim of this fleet charging installation project was to set up EV charging stations for the client's Mercedes E-Sprinter fleet in its Dublin car park. Similar to the above project in Belfast, this involved the installation of 69 EO Genius chargers – although this time outdoors on posts – as well as data cabling for back-office connectivity with EO's monitoring service.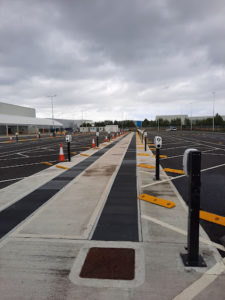 We furthermore installed LVSS Distribution Boards (designed to receive and distribute electric power) at each end of the car park to feed the individual chargers, as well as providing all of the cabling and containment for the charger installation. That also included the provision of the 500kVA transformer and connectivity to the local substation to power the EV Charger solution. Transformers essentially convert energy from the source to the power required by the load – in this case, the EV chargers.
Services provided by TSG Ireland for these projects:
Installation of 129 EO genius chargers for the client's electric Mercedes fleet
Local substation connection, 500kVA Transformer installation and commissioning
Data cabling for back-office connectivity
Installation of LVSS Distribution Boards
Provision of all cabling and containment for the charger installation
All works carried out adhered to local standards and specifications
Testing, certification, commissioning and handover of EV charger network to the client
Maintenance services where required
Fleet Charging Installation with TSG Charge
At TSG Charge, we have an existing customer base of over 10,000 locations in this market segment across 29 countries. This gives us a unique position in the market to assist you in making the gradual transition from traditional fuels to electricity with our multi-energy solutions.
We are best placed to provide the services you require to design, install and maintain the infrastructure for your EV fleet. Make sure to get in touch with us today to enquire about EV Fleet charging Solutions.