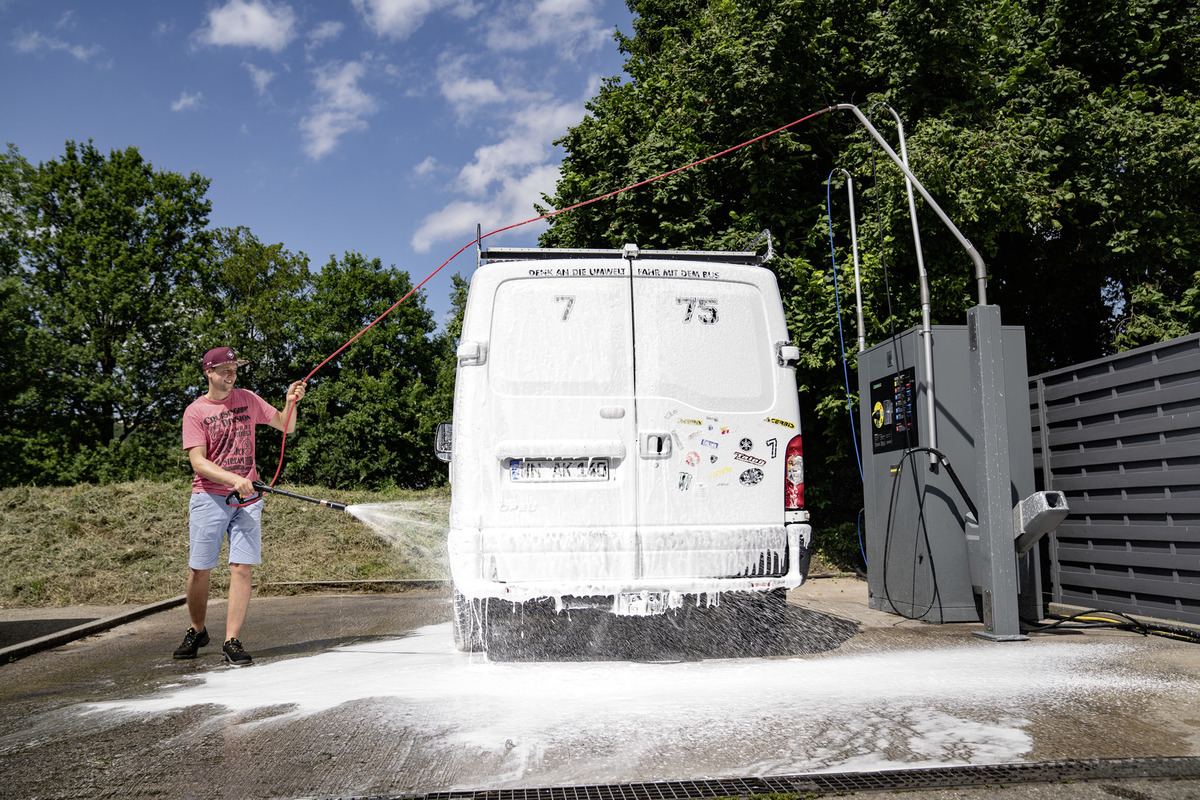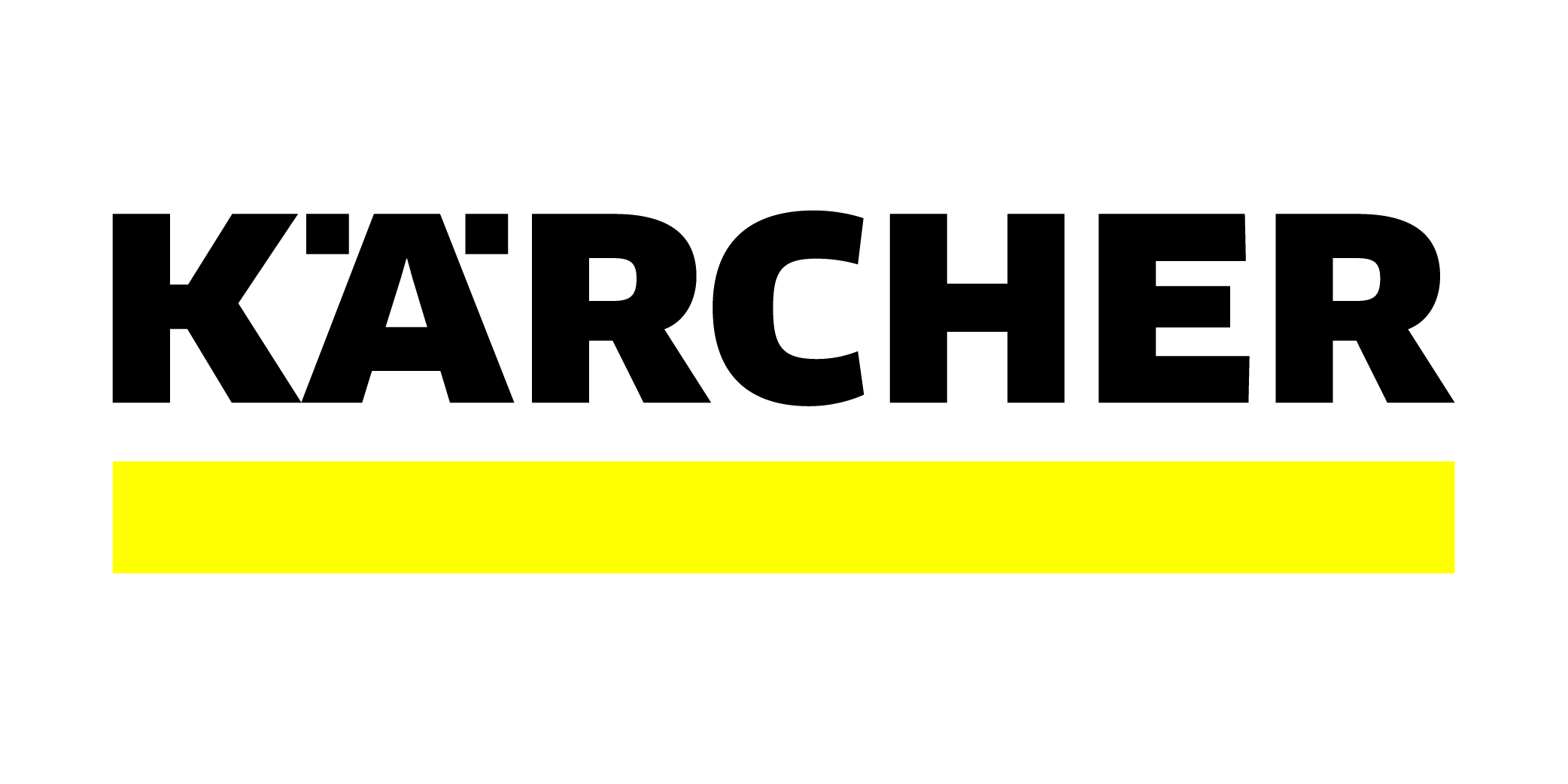 As of September 2021, Kärcher has released its new one-bay self-service wash system (SB OB). With the new SB OB, Kärcher offers a compact one-bay self-service wash system for high-pressure washes of vehicles. And thanks to numerous configuration options, the new wash system can be easily adapted to individual customer requirements. Whether it is for additional business or in-house vehicle washes, all operators benefit from the robust and durable components and the proven "Made in Germany" Kärcher technology of the new SB OB.
A complete vehicle wash in the smallest of spaces
The new SB OB Kärcher is very compact, making it ideal for operators with limited space. Furthermore, it is easy to use! Selecting the right wash program is incredibly simple for the wash customer as it selected by using a rotary switch, complemented by symbols and LED lamps that show the remaining running time.
The SB OB can be configured as needed. In addition to the four standard wash programs (high pressure, foam, rinse and wax), extra programs for washing the wheel rims, care and maintenance, and the removal of stubborn dirt, can also be added. Covering all cleaning and maintenance requirements of a complete vehicle wash.
Based on the program configuration, the new SB OB can be equipped with up to three wash tools. A power foam lance can be added to the high-pressure lance and foam brush. It enables two additional pre-wash programs: power and wheel rim foam washes. You can also add swivel arms, which easily guide the hoses around the vehicle.
Tools are stored at the device or in a separate storage container, depending on the equipment. Safety locks will ensure that only authorized personnel have access to the control unit or coin box.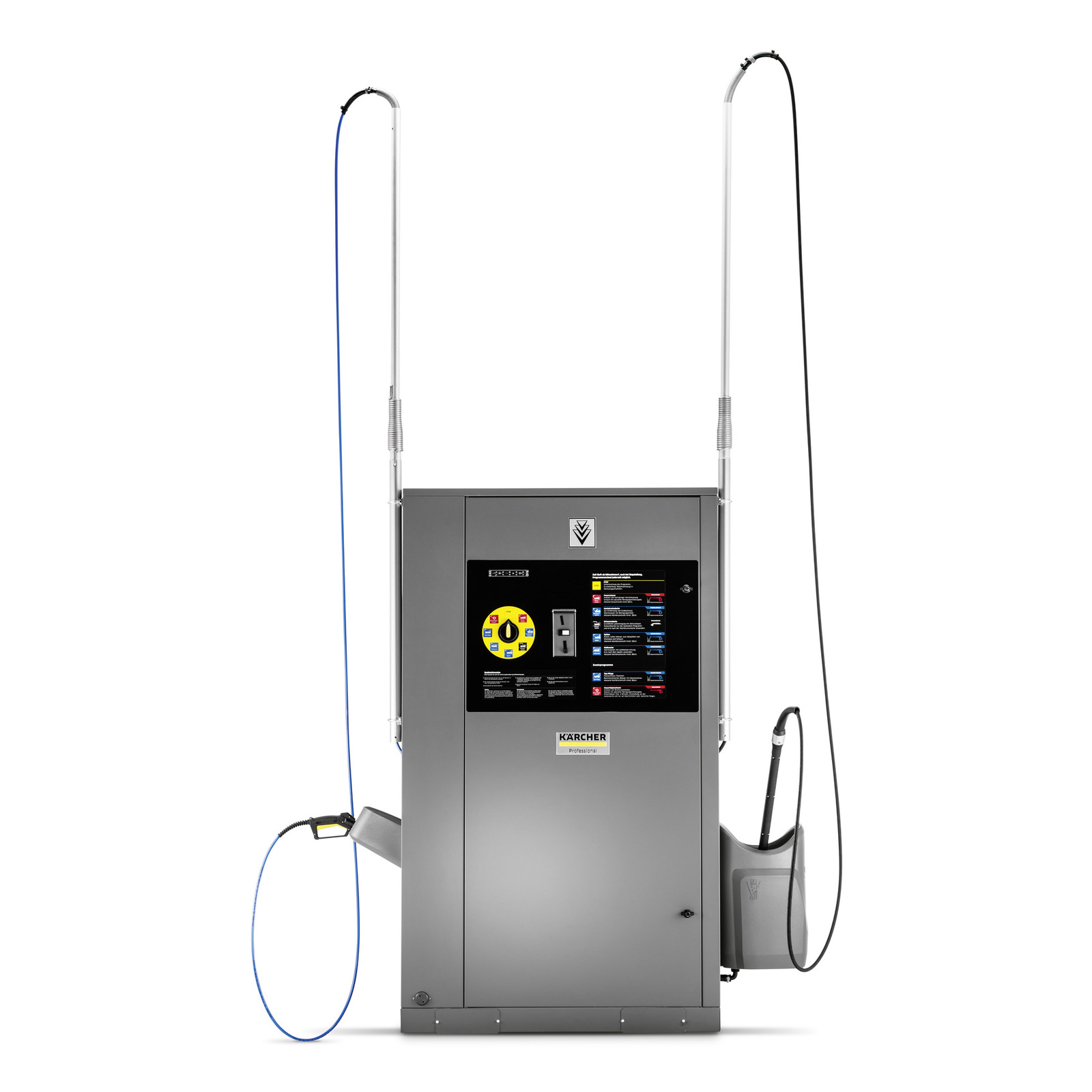 Technical specifications
In terms of technical equipment, operators can choose between various options: water softening or osmosis systems, with or without frost protection. Two different pumps are also available (500 liters/100 bar or 900 liters/120 bar). Further technical specifications include:
Water flow rate: 500 l/h or 900 l/h
Working pressure: 100 bar or 120 bar
Number of wash programs: max. 7
Heating: Electric (6 kW, 12 kW, 24 kW)
Wash tools: Combi-tool, high-pressure lance + foam brush, power foam lance
Power supply: 3Ph/400 V/50 Hz
Dimensions (L x W x H): 1200 x 800 x 2100 mm
Hot water: 60 °C
TSG & Kärcher
TSG & Kärcher have been working closely together for years. Based on our exclusive partnership, TSG can offer you a profitable and complete car wash installation. From replacement of Car, Truck and Self-service wash equipment and overhauls of car wash parks to complete new construction of car wash projects. We take on the project from A to Z as we have experience in all aspects, from design, planning, permit application to delivery, aftercare, training, service & maintenance.
Interested in the new SB OB?
Interested in adding the new one-bay self-service to your site? TSG takes care of the full installation for you! Go to the website of your country (in the top left corner of the menu) and contact our local sales team for more information.