The sheer range of advantages offered by the powerful new Tokheim EYE system are already being realised by one of the first UK service station businesses to install it: Ron Perry & Son's two service stations located on the A19 near Hartlepool. As a long-established operation in the north of England, Ron Perry & Son has operated here for over 40 years, with three generations of the Perry family involved.
Changing from analogue to digital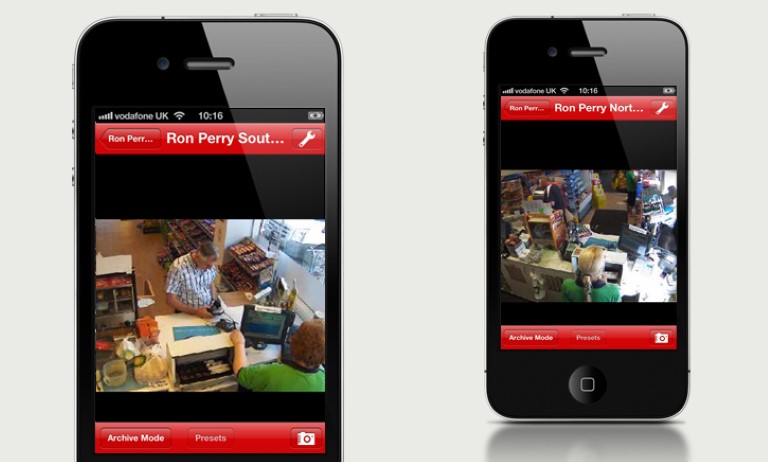 Current proprietor Ron Perry, son of the business' founder, has expanded the northbound and southbound facilities to encompass facilities including forecourt shops and a cafe on each site. With such a variety of important operations to maintain, protect and manage Ron concluded that an existing seven-year old CCTV analogue system was no longer providing sufficiently detailed images or properly viewing areas of the sites required – including the fuel pumps. His longstanding relationship with TSG led to the installation in September 2012 of the Tokheim Eye system, and within six weeks it had already demonstrated its value in a multitude of ways.
On mobile, tablet, desktop or laptop
A trial of two IP dome cameras located above the cashier positions in the retail shops, linked to Ron's desk computer in his office on the southbound site, as well as his smartphone, has given him an insight into just how useful a fully expanded system could be. "The images and data that I have already seen have been invaluable in terms of revealing operational management improvements we can make. For instance, reviewing staff activity when a recent drive-off incident occurred showed that we could introduce changes to maximise the chances of this being spotted and take appropriate action in future."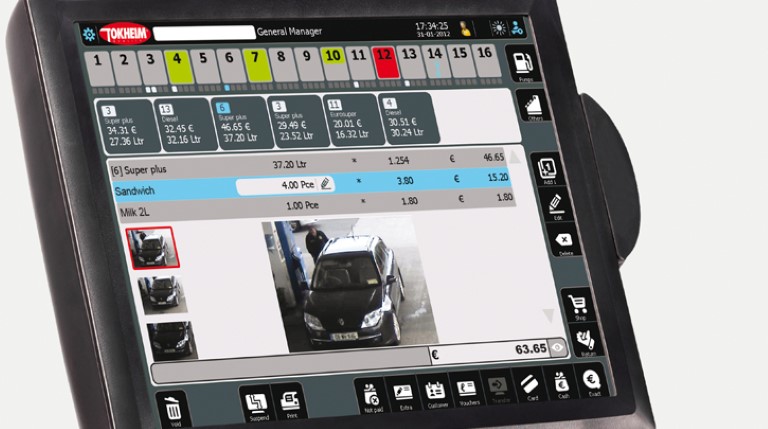 "On a day-to-day level, it has allowed me to see when queues build up in the shop and make changes in shift patterns to minimise inconvenience for our visiting customers. If I want to search for any kind of incident, it is now far quicker and easier because you can ask the system to search via criteria such as last fill-up, last cash payment, by receipt, date, time etc."
"For instance, a customer rang us to ask if he had driven off leaving an item on our shop counter whilst paying and we were able to speedily find the relevant images using the new shop cameras just by asking him for some simple information over the phone. Previously, that would have been very time consuming because of the lack of integration between the cameras, the pumps and the tills. We have also used the high definition (HD) dome cameras to search for till receipt data for transactions where there has been a query over the payment, because it is actually quicker to use the surveillance system to find the receipt details and settle any dispute."
Number Plate Recognition (ANPR)
Inspired by Tokheim EYE's potential, Ron expanded the system with IP HD cameras out on the forecourt monitoring the pumps and maximising the value of a fully integrated system for his two sites. To help further increase security an automatic number plate recognition (ANPR) module was added. With this module added number plates are digitally read by the camera; with advantages including the ability to build a license plate database for blacklisting of vehicles involved in previous drive-offs, pre-empting potential thieves before they can leave with stolen fuel and thereby protecting the precious bottom line.
One drive-off has already been investigated and images of the culprit were 'exported' onto removable media and passed to the police, who in turn were able to play the evidence to the driver in question. The result? He returned to A19 Services and paid the fuel bill. "We have found that Tokheim Eye is so demonstrably useful that the police have reacted to the system's abilities and are very willing to take advantage of its capabilities. If they can use its evidence to prosecute for one incident, there's often a chance that the person or vehicle can be linked to other offences. For instance, a car involved in a recent drive-off was later found to be stolen too."
Tackling shrinkage
In terms of tackling shrinkage, Ron expects the system to also provide a fast means of identifying anomalies including voids, refunds and high numbers of returns. "The system is so powerful and easy to use that it proactively provides warnings and supplies the related data and visual evidence as a package. That means that problems do not slip through the net and can be investigated without it being an onerous task in terms of the time this previously took:' he explains. "It also allows me to keep an eye on the staff. Because I can view the CCTV remotely, they don't know whether I'm looking in real-time or not. Every business has problems with staff and you have to put a lot of trust in your staff. I now have a better idea of what's going on. We lose about £2-3,000 a year in drive-offs and while it's too early to say if the system has eradicated that, it's definitely a deterrent."
The system is so powerful and easy to use that it proactively provides warnings and supplies the related data and visual evidence as a package. That means that problems do not slip through the net and can be quickly investigated.
Images on EPOS help avoid mix-ups
The technology has put a stop to motorists giving cashiers the wrong pump number and, while drive-offs were not a massive problem on Ron's sites, it also prevents thieves from targeting his forecourts. "When the customer pulls the nozzle out, the system takes a photo of them and records them throughout the transaction. When they tell the cashier their pump number, a photo of them comes up on the till screen so staff can identify if it's the correct person. On a busy forecourt customers can easily give the wrong pump number and the cashier ends up charging for the wrong amount. If someone has forgotten to pay, you can easily see at which point they forgot," adds Ron.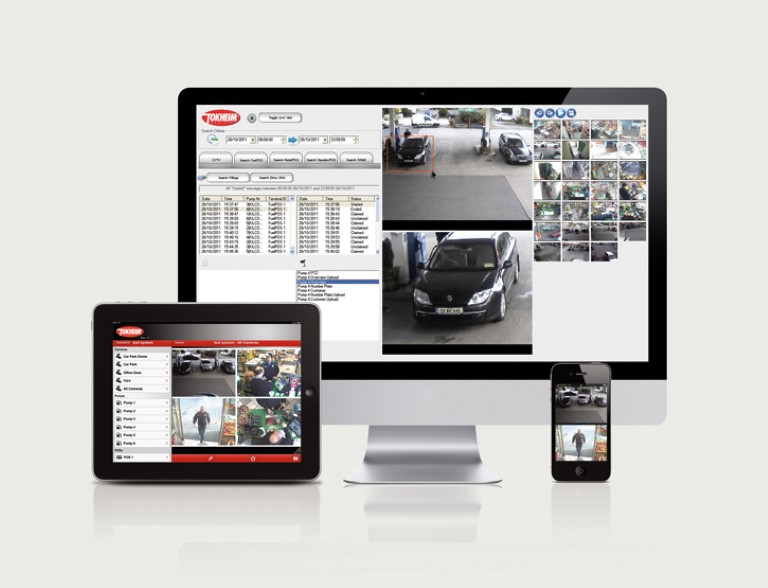 Expanding the modular system
"Expansion of Tokheim Eye at the A19 Services is aided by the ability to add elements of the system when investment funds permit and circumstances dictate. "For me, the beauty of this is that I do not have to fund the whole installation in one go, meaning it is flexible, versatile and 'future-proof', because we can make changes as events develop in the future."