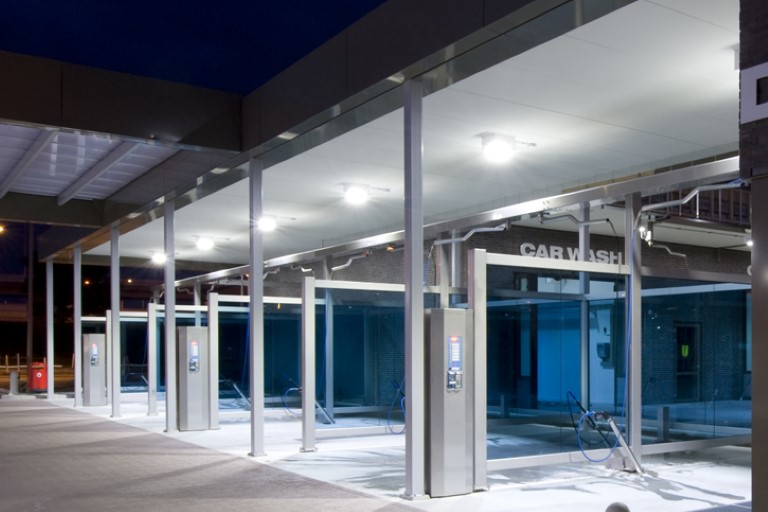 Luifelverlichting
Goede zichtbaarheid van uw tankstation vanaf de weg geeft meer attentiewaarde en motiveert bestuurders om een stop te maken tijdens hun reis voor het tanken van brandstof en of het aankopen van artikelen in de shop. Zowel brandstofdispensers, bedrijfsnamen op zuilen, auto's en mensen dienen duidelijk gezien te worden. Bezoekers moeten zich veilig en comfortabel voelen tijdens hun bezoek aan uw station.
Terreinverlichting
Wanneer de wegen, gebouwen en parkeerplaatsen rondom het tankstation goed verlicht zijn, geeft dit uw klant een veilig en verwelkomend gevoel. TSG biedt u een energie-efficiënte LED oplossing voor parkeerplaatsen, wegen en omgevingsverlichting met perfecte lichtniveaus met een laag energieverbruik.
Wasstraatverlichting
Vaak bieden tankstations naast de standaard services ook een wasstraat en wasbox faciliteit aan. Voor klanten dient dit niet alleen een praktische, maar ook een plezierige ervaring te zijn. Voor tankstations daarentegen is dit ook een belangrijke bron van inkomsten. De verlichting dient geschikt te zijn voor deze (natte) omstandigheden en moet een duidelijk en helder licht bieden voor bestuurders en wasstraatmedewerkers.
Shopverlichting
LED verlichting biedt niet alleen oplossingen om energie te besparen voor buitenverlichting (voorterrein), maar kan tevens gebruikt worden om een gezellige en aantrekkelijke (2500-2700 K) uitstraling te creëren in uw shop, restaurant of bistro waar klanten zich comfortabel en welkom voelen. TSG biedt LED armaturen voor een aangename uitstraling door het gebruik van verschillende lichtkleuren, meer gerichte verlichting op de schappen en lichtkleuren welke voedsel aantrekkelijker eruit laat zien. U kunt tegelijkertijd de verkoop verhogen en de energiekosten reduceren.