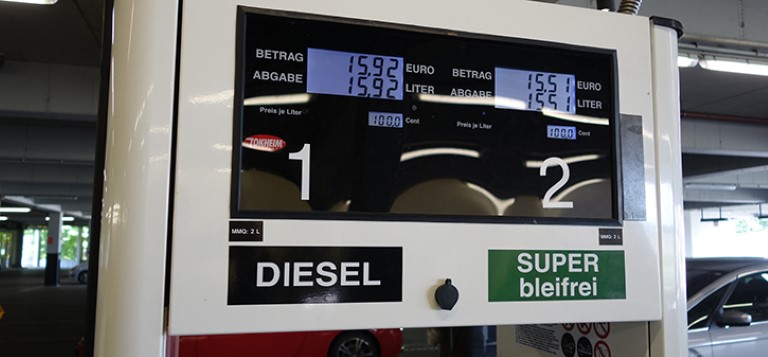 The largest airport car hire company worldwide
Hertz, the largest airport car hire company worldwide, has selected TSG to provide the solution for fuel extraction at their centre in Kelsterbach, Germany.
System pozwala na bezpieczne wydobycie blisko 100% całego paliwa pozostałego w zbiornikach pojazdów – wyspecjalizowany system, w którym dysza (jedna na benzynę i jedna na olej napędowy) jest wkładana do zbiorników i zapewnia kontrolowaną i udokumentowaną ekstrakcję. Ważne informacje, takie jak numery identyfikacyjne pracowników i pojazdów, a także lokalizacja i czas tankowania, są gromadzone i przechowywane. Dzięki systemowi czas potrzebny na raportowanie i dokumentowanie wszystkich informacji został skrócony o połowę.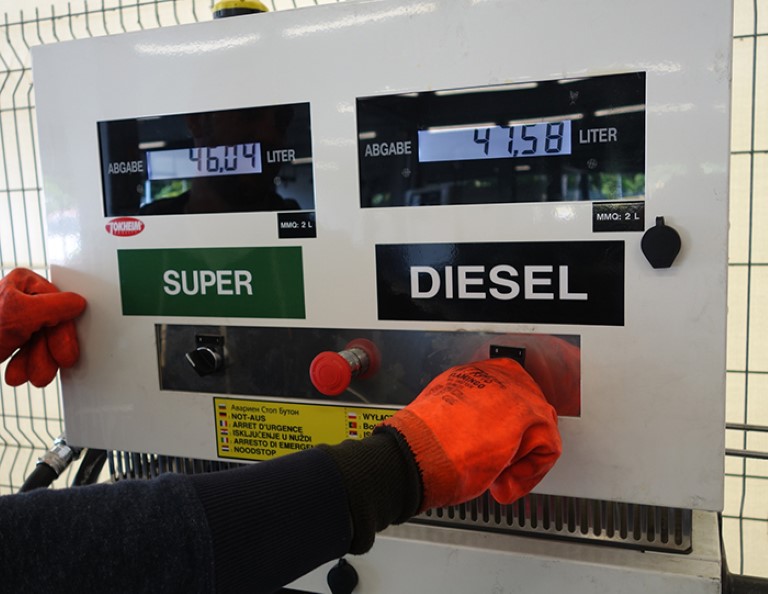 Germany's largest
With the refuelling of approximately 120 cars every day, Hertz's site at Kelsterbach is one of Germany's largest. Located near Frankfurt, it is also Hertz's only Self-service kiosk in Germany where the onus is on the customer to return the vehicle with an empty tank.
'To optimise the life-span of the vehicles the customers must empty the vehicles tanks' explained Steffen Matchke, 'therefore it makes economic sense to able to extract all leftover fuels from the Kelsterbach fleet".
400 cars are emptied each month and this number is constantly rising. In 2012, Hertz selected TSG to provide the complete solution to their challenges, these being fuelling, fuel retrieval and comprehensive reporting and documentation of all the operations. TSG also provided the complete service and expertise when replacing all the obsolete equipment.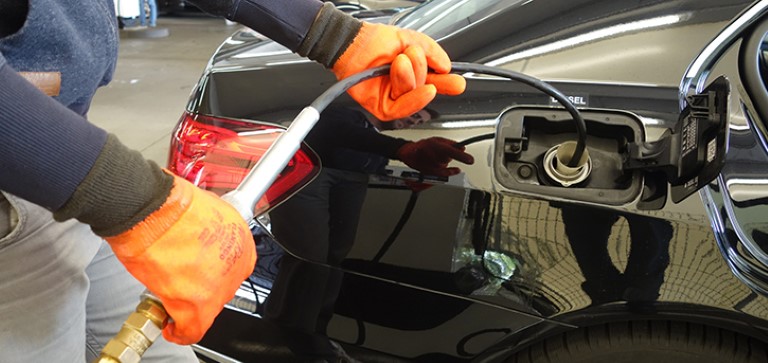 As simple as fueling
In order to provide an accurate stock control two Quantium 310 dispensers, equipped with Tokheim's minimal drift TQM meter and supplying both Diesel and petrol, have been installed. Installed on the site was also Tokheim' Debowser which sucks fuel from the vehicles' tanks using a piston meter to guarantee accurate readings.  Whilst pumping out the fuel, the volume extracted is immediately displayed on an LED screen. The pump shuts itself off automatically once the tank has been completely emptied, with an option of a manual shut off also available.
Tokheim Debowser can pump up to 40 litres per minute into the storage tank. It's power supply and lighting are all grouped together under the main housing unit, separated by a vapour barrier adding safety to the operation area. This ensures all electrical equipment is kept away from any contact with fuel vapours.
"Thanks to the system of defueling we can make significant savings in fuel costs – not to mention the decrease in expenditure on vehicle repair" the Service Manager reports.  "Thanks to TSG's system, the current fuel extraction rate is at about 90%."
With this new system we can capture all data very easily and subsequently and, most importantly, manage and analyse it. Not only has reporting become easier, but the time it required has been halved. The move to Tokheim's equipment was definitely the right decision.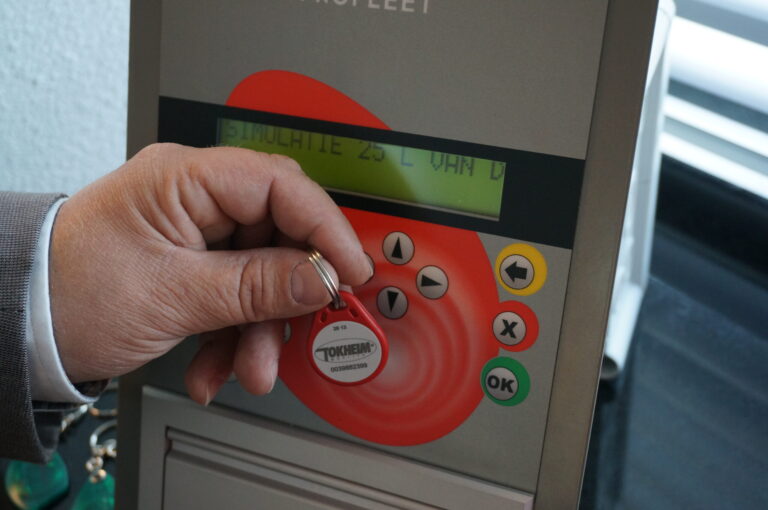 Control and Data Access
Using Tokheim's DiaLOG Fuel Management system an individual can control the defuelling pump,  the Q310 fuel dispensers as well as all the data that is collected. Access is restricted to employees with PINs, magnetic and chip cards or RFID tags only. At Hertz, a token and a vehicle unit number are required to login in the first instance, with a simple fuelling menu showing thereafter.
Detailed reports in half the time
Using a PC, tablet or smartphone and TSG's integrated software, all data can be accessed and processed on any web browser with an internet connection. The user is provided with vehicle stock numbers, fuel stocks and reports which can then be customised to the user's personal preferences. The required records as well as the interface design are easily accessible by the user. Due to the comprehensive interface all information can be exported to Excel or SAP programs as well as import external driver/vehicle data with ease.
A particular advantage for the Kelsterbach site is the uniform and detailed reporting of all the extracted fuels. With rising fuel costs in mind, careful stock management and comprehensive documentation plays a pivotal role in the profitability of the company.